Live Jazz and Acoustic Music in Bristol
Hi All, we are planning to start 2022 in March with a series of monthly gigs at the Bristol Beacon Foyer. The first four are Brandon Allen's project to revisit the music of Blue Note saxophonist Stanley Turrentine; Fri 11 March.
Following that we have the Monk Liberation Front; Sun 10 April with Tony Kofi and Jonathan Gee; Orphy Robinson is back in town on Sun 15 May; and we round off the Spring series with Chris Batchelor's ethereal sounding new band 'Zoetic' on Sun 12 June.
Hope there is something you like and will come along to.
Cheers, Ian
Brandon Allen's Stanley Turrentine Project
Fri 11 Mar - 7:15 for 8:00 (£16.35/15.26)Bristol Beacon Book Δ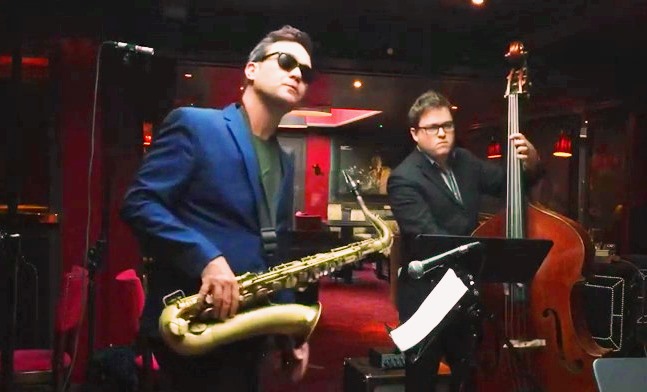 Brandon Allen (Tenor Sax), Will Barry (Piano + Keys), Conor Chaplin (Basses), Dave Ingamels (Drums)
Brandon Allen has established himself as one of the UK's most in demand saxophonists and bandleaders, performing extensively throughout the UK, Europe, the Middle East, Asia and Australia, both as a leader and sideman. Throughout his career he has worked with top international artists including Eric Clapton, Paloma Faith, US3, The Blockheads and many others. His Jazz associations include; Kyle Eastwood, Adam Nussbaum and Gary Husband
The 'Stanley Turrentine Project' came about because of Brandon's deep admiration for the late great saxophonist's; a major artist on the Blue Note Record label and a legend of the tenor saxophone; he was renowned for his distinctively thick, rippling tone, an earthy grounding in the blues, and his ability to work a groove with soul and imagination. Sideman to the likes of Ray Charles, Max Roach and Earl Bostic; he's best known as leader of his own groups and for his Blue Note soul-jazz jams of the '60s, and his Jazz-Fusion period in the early '70s.
The repertoire of the 'Stanley Turrentine Project' is specific, drawing from Turrentine's releases on the Blue Note and CTI labels, plus his renditions of rock/pop hits, reimagined by Brandon's exciting new quartet. Expect soulful saxophone playing accompanied by a hard swinging and funky rhythm section. read more
"Allen's four-octave range and flawless command of the altissimo register was nicely offset by his full-bodied yet raucous tonal quality offering something for fans of the entire history of the instrument- from Hawkins to Brecker- he's got 'em covered." ~ London Jazz News