Live Jazz and Acoustic Music in Bristol
Hi All, I've now booked all gigs for the Winter/Spring series and its looking good. A special nod to two gigs that could be exceptional: March with 'Same Moon' and June with Ellen Andrea Wang. Plus there's also an Acoustic gig in April, for an old friend of mine!
Hope you can join us for some of the gigs in Jazzata's Winter/Spring Series. Click the link on the right to join the mailing list and get notified early!
Cheers, Ian
'Same Moon'; Alex Hitchcock - Ant Law Quartet
Sun 19 March - 7:15 for 8:00 (£20.71/ £19.08)Bristol Beacon - Book Δ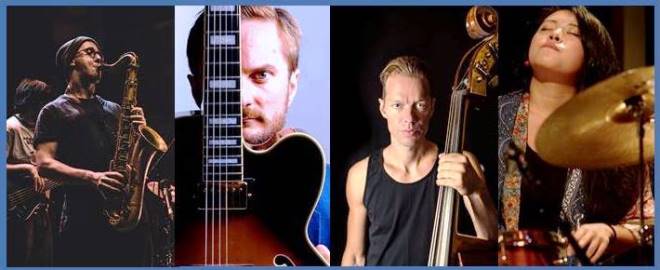 Alex Hitchcock (Saxes), Ant Law (Guitar), Jasper Høiby (Bass), Sun-Mi Hong (Drums)
'Same Moon in the Same World' is a new collaboration series between saxophonist Alex Hitchcock and guitarist Ant Law.
The series takes its name from a line in Haruki Murakami's 1999 novel Sputnik Sweetheart;.....'we're both looking at the same moon in the same world. We're connected to reality by the same line'
The album 'Same Moon' was recorded remotely across multiple continents in 2020 and 2021, the first album in the series aims to seek connectedness and solidarity with musicians who were kept apart geographically over this time. Featuring guest contributions from vibraphonist Joel Ross, pianist Shai Maestro, bassists Linda May Han Oh, Ben Williams and Jasper Høiby, and drummers Jeff Ballard, Kendrick Scott, Sun-Mi Hong and Eric Harland. Hoiby and Hong make up the touring Quartet.
Jasper Høiby is well known as one of the outstanding bass players in Europe today, renowned for his hard groove band Phronesis and more latterly Planet B.
Denmark and Scandinavia has a huge history of producing great bass players, Jasper is not only following in their steps but taking it forward, as any evolution should do.
He is joined in the rhythm section by mercurial female drummer, Sun-Mi Hong: Born in Korea she has lived in Amsterdam for the last 10 years and in that time has firmly ensconced herself in the Dutch Jazz scene; and in that short time has managed to garner a modicum of awards & renown; Her last album 'A Self-Strewn Portrait' (ZenneZ Records) winning the Edison Award 2021 in the Dutch National category. She is the winner of the Dutch Jazz Competition 2018 and the 2nd Prize of the Getxo International Jazz Competition 2017 (Sun-Mi Hong Quintet), plus she just released a new album with her quintet on the UK's Edition Records on the 18th of November 2022.
The Line-up suggests this may well be a bit special...read more
"(at Love Supreme 2018)....they dazzled with a display of collective virtuosity, demonstrating that challenging acoustic jazz can hold its own, and retain the crowds" - Jazzwise
'An Evening with Jim Blomfield and Friends'
Sun 16 April - 7:15 for 8:00 (£20.71/ £19.08)Bristol Beacon - Book Δ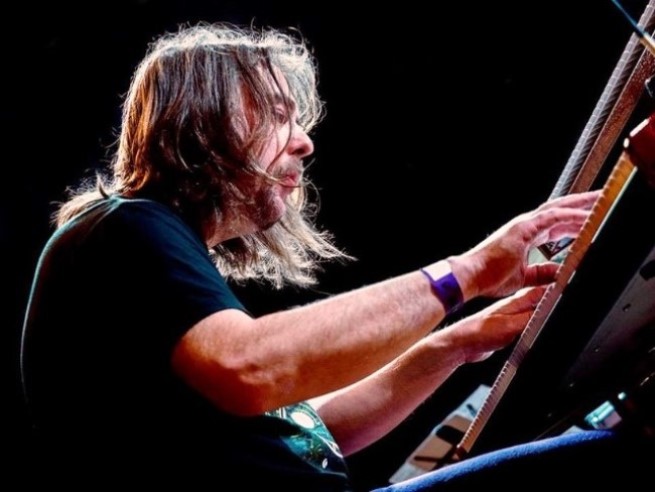 Jim Blomfield (Piano & Keys), Kevin Figes (Saxes & Flute), Sol Ahmed (Bass),
Jon Clark (Drums), Lisa Cherian (Congas & Percussion)
It might seem a little odd to some, that I would programme another gig with Jim and Kevin only two months apart. There is method to my seeming madness! Kevin's gig is NEW arrangements of music of Kevin's mentors and influencers, Jim is at the piano as sideman for that project, as he has been for serveral things I've either worked on with him, or heard at other gigs over the last five years.
I have be lucky enough to have been listening to him since the early 90s when he first moved to Bristol. Raw but very exciting in his early years, I've heard him grow and develop into an outstanding musician of rare quality and I felt it was about time we heard him playing a couple of sets purely of his choice. I asked him initially for his trio but gave him carte blanche to decide what he wanted to do, this is what he chose for this evening.....with Jim!
Jim's style has developed in concert with the growth of his trio and other groups he graces: So much so, that the intelligence he uses allows space and freedom to explore melodic lines and tempos that add to his overall musical package. Many pianists never attain this state of development, Jim seems to be constantly moving forward with his depth of play; something we can all look forward to and enjoy over future years.
So this is an evening of music performed by musicians that Jim Blomfield has especially assembled for this concert, reflecting his involvement in many ensembles over the years in both the fields of Jazz, Contemporary and Latin musics. Some of these musical relationships go back as far as the early nineties!
Jim will be revisiting and reworking his own compositions both old and new as well as his arrangements of favourite tunes from both the Jazz and Latin genres. This is a rare chance to hear Jim's engaging piano style and his rich compositions. read more
"Heard in full flow, pianist Blomfield sounds as fully formed as any of his better-known UK peers..." - Phil Johnson; The Independent
Kate Dimbleby, Keith Warmington & Clare Lindley
Thurs 27 April - 7:15 for 8:00 (£18.53/ £17.44)Bristol Beacon - Book Δ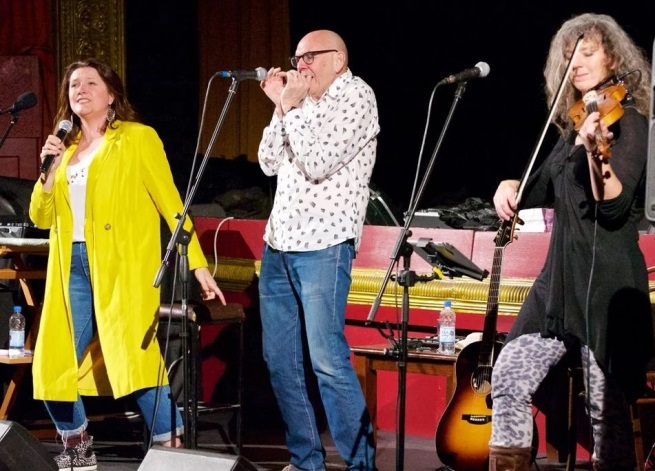 Kate Dimbleby (Vocals & Loops), Keith Warmington (Harmonica, Guitar & Vocals), Clare Lindley (Violin, Guitar & Vocals)
Internationally acclaimed singer-songwriter Kate Dimbleby, violin virtuoso Clare Lindley; and well known former BBC Radio Bristol personality & musician Keith Warmington, bring together a touch of Americana and Blues with a British sense of humour. They combine songs by John Prine, Kirsty MacColl, Fleetwood Mac, Richard Thompson and Leonard Cohen; with Kate's original songs.
Kate Dimbleby has released six albums, toured internationally at arts and music festivals and appeared regularly on national radio. She has toured the world with her one woman shows, selling out venues like the Festival Hall and Ronnie Scott's. She recently performed at the Royal Albert Hall with Gifford's Circus singing a version of Joni Mitchell's 'Both Sides Now' as part of the Royal Variety Performance 2022.
Keith Warmington is a soulful singer of the Blues; a guitarist and virtuoso harmonica player who has played with all sorts of artists from Dr John to John Martyn as well as being a much-loved radio presenter for BBC Bristol. One of his old bands; The Parole Brothers, were a well known group on the Bristol music scene in the 70s and 80s. In that band he worked alongside guitarist Steve Payne. The Parole Brothers made Keith a veritable legend on the circuit then; he remains a performer today working with one of the country's finest folk musicians Steve Tilston, a long time friend.
Clare Lindley grew up in the 1970s in rural Aberdeenshire, where a rich traditional music culture still sits happily amongst popular music. She played in the duo Green for nine years and they released an album on Lochshore Records called Found on The Wave. They played lots of lovely Scottish folk festivals in the Highlands and islands as well as gigging extensively all over Europe. In the late 90s she moved to London and played on the London Irish scene with cult band Six Mike Walk for five years, after which she decided to move west and get out of the big smoke. In 2009 she joined Stackridge who gathered her up into their bus and showed her a good time in the tea shops and takeaways of the towns and cities of England. She now has her own ceilidh band called Big Jessie.
These three have been playing to delighted audiences around the region, tonight they are going to record the evening for a future LIVE album. Come along and join them for some great songs and fun read more
"Stunning vocal virtuosity. Kate is an artist absolutely at the top of her game." Tom Robinson, Radio 6 Music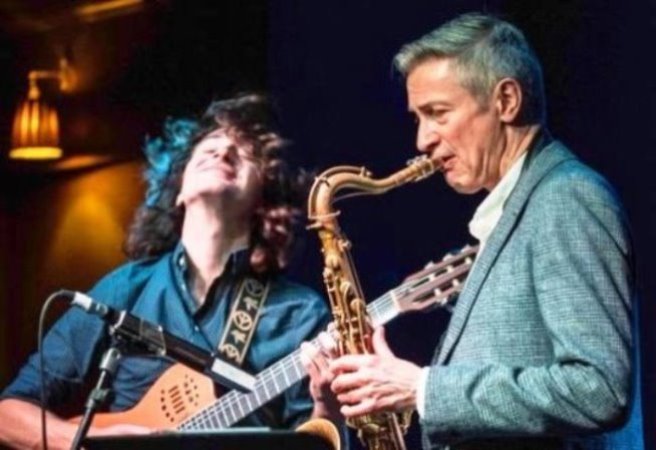 Dave O'Higgins (Saxes), Rob Luft (Guitar), Ross Stanley (Piano), Misha Mullov-Abbado (Bass), Rod Youngs (Drums)
This is straight-ahead modern jazz in the African-American tradition, clearly coming from the Monk and Trane lineage, but not bound to emulating it.
You will hear Luft easily morphing Wes Montgomery with Bill Frisell, adding his own trademark soundscapes and world influences, while O'Higgins' emotive melodies evoke Dexter Gordon, Trane, Joe Henderson and Brecker; with a melodic logic of his own.
Dave O'Higgins' experience working with artists across different genres spans a huge spectrum, such as US Jazz musicians Darius Brubeck, Kyle Eastwood, Joe Lovano, Jimmy Smith and Wayne Shorter; to Jazz vocalists Nancy Wilson, Peggy Lee and extraordinary Kurt Elling.
Add to that long term UK work with Sir John Dankworth and Dame Cleo Laine; plus collaborations with South African pianist Abdullah Ibrahim to the legendary French pair; violinist Stephane Grappelli (in Martin Taylor's 'Spirit of Django') and composer/songwriter Michel Legrand.
He also wrote and produced the pop group Matt Bianco's album, "Gravity".
But it dosen't stop there.... Frank Sinatra (the last London appearance - a week at the Royal Albert Hall in 1992) and a tour and album with Blues great Ray Charles (Strong Love Affair). Its a CV to die for!
Rob Luft is an award-winning 28-year-old jazz guitarist from London whose virtuosity has been compared to that of six-string legends John McLaughlin, Al Di Meola & Paco De Lucia. Those are big boy boots to be compared too, and I must admit when I put these two on at the Bristol Old Vic (Sept 2019) as a quartet, I didn't know too much about Rob....turned out he stole the show with some incredible guitar lines delivered at exceptional speed and accuracy, without breaking sweat!
Praised by 'The Times' for performances with the National Youth Jazz Orchestra in 2015, who said he was destined "to achieve great things in the future", well he has already.
His debut album, 'Riser', was released on Edition Records in 2017 to widespread critical acclaim from the European jazz media. John Fordham wrote in The Guardian that "it's a very sophisticated debut, but given Luft's old-soul achievements since his early teens, we should have heard it coming". Well, that turned out to be prophetic!
These two together makes for a formidable frontline, with an A-List rhythm section, this will swing like someones mother!
The Quartet is now a Quintet; and if its anything like the Old Vic gig, you won't want to miss it read more
"O'Higgins plays with quite exceptional fluency and his fund of ideas never runs out." - The Observer
".a singular talent, a fluent improviser and a composer of catchy, earthy, infectiously upbeat tunes. There are echoes of West African high-life, English folk, indie rock and various strands of contemporary jazz, but Luft's sound is joyously original, robust and in-your-face." - The Irish Times (IRE)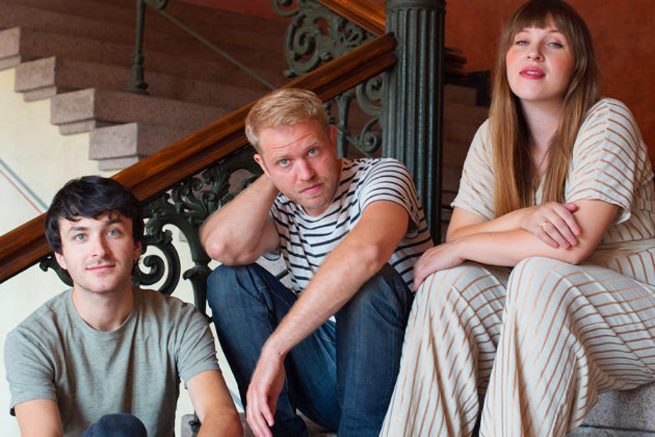 Ellen Andrea Wang (Bass & Vocals: Norway), Rob Luft (Guitars: UK), Jon Fält (Drums: Sweden)
Born and raised in Norway, Bassist and singer Ellen Andrea Wang has become a powerful force in European Jazz and beyond, distinguishing herself as a truly inventive artist that blends styles in unprecedented ways. From collaboration with Sting, Manu Katché, and Marilyn Mazur, to performances at major Jazz Festivals, to her appearance with the vocal Jazz Group GURLS, to her own projects Pixel and the Ellen Andrea Wang Trio. She was appointed Artist in Residence at the Molde Jazz Festival in 2021.
Wang has consistently sought to tastefully blend Jazz and Pop in new ways. Her compositions and performance balance the lyrical with the rough and the acoustic with the electric; resulting in a unique modern sound. Her voice is subtlely strong and haunting, much in the way we heard the vocal theme songs of those Scandinavian TV series of the recent past, such as The Killing and The Bridge
Ellen's third studio album, Closeness, features this trio line-up. In what now seems prescient, the album is an adventurous mix of traditional spirituals; soothing in their delivery of her longing and personal compositions; plus two carefully selected covers from Ornette Coleman (Lonely Woman) and Pat Metheny (This Is Not America). The connection between the musicians is quite evident as they approach each song with patience and absolute care for the art.
Rob Luft is an multi-award-winning 28-year-old jazz guitarist from London whose virtuosity has been compared to that of six-string legends John McLaughlin , Al Di Meola & Paco De Lucia. Praised by The Times for performances with the National Youth Jazz Orchestra in 2015, who said he was destined "to achieve great things in the future", that has proved prophetic, Big Time! If you come and hear him with Dave O'Higgins in March, you will hear a grooving, spectacularly speedy & accurate guitarist: With this trio he shows a completely different side, using texture, tone and an affinity with his fellow musicians, that produces something very beautiful.
Jon Fält was playing in very good company from a very young age. After playing in the National Jazz Orchestra of Sweden, he quickly progressed to play in the bands of some stellar Scandinavian artists such as; Bobo Stenson, Fredrik Ljungkvist and legendary Polish trumpeter Tomasz Stanko. He's won multiple awards and diversified into Indie, Rock and Contemporary Pop bands. What he gives to this trio is a delicate touch, similar to the feel you get when listening to Paul Motion.
This could end up being the top gig of the season....maybe; read more
"A commanding presence in any ensemble she plays in, her soft tone and vocal precision are always counterbalanced with heavy and assertive grooves from her double-bass, interlocking with drummers, jazz, pop and groove alike". The Guardian