Wishing everyone a Merry Christmas and a very good New Year!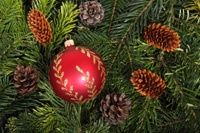 Two fantastic, yet completely different gigs with Bobby Avey & Oli Rockberger saw out 2014 and we have some great stuff lined up for 2015 already. We kick off with Andy Sheppard's "Hotel Bristol" (Sun 25 Jan) for which he has written some new material.
See the Gig News page for further dates in 2015.
Cheers, Ian
Andy Sheppard's "Hotel Bristol"
Since our gig with these guys this time last year, the band has now adopted "Hotel Bristol" as the group name rather than a list of surnames. The Hotel even has its own receptionist for bookings....though she doesn't do room service...I asked! Last year's gig was hugely enjoyable and in the interim Andy and Denny have written more original material for the band, as well as taking the band to the Tbilisi International Jazz Festival in Georgia as part of an exchange programme with Bristol International Jazz & Blues Festival. They also headlined at London Canary Wharf Festival in the summer of this year.
Most of you will know Andy's original material, but it's his collaborative work with some of the world's finest performers that has enhanced his reputation for imaginative improvisation and a rare beauty in delivery. A diverse bunch from the big band orchestras of Gil Evans, George Russell and Carla Bley who he also has a long association with in her trio with Steve Swallow; classical musicians John Harle, Nigel Kennedy and pianist Joanna McGregor, World musicians Nana Vasconcelos, Baaba Maal & Fela Kuti, Indian violinist L Shankar and folk and rock musicians Elvis Costello, John Martyn & Kathryn Tickell.
With his unique sound he has become the consummate professional, playing a wide range of music all over the world. When he's home he loves to play often, and has this band and The Pushy Doctors to keep him busy. Tonight we'll get a chance to hear the new stuff and some favourite old chestnuts left over from Christmas.......read more