Bruce Barth Trio (USA, Ire + UK)
Bruce Barth USA (Piano)
Arnie Somogyi (Basses)
Stephen Keogh Iré (Drums)
Bruce arrived on the New York jazz scene in 1988, and soon joined the great tenor saxophonist Stanley Turrentine; their musical collaboration spanned a decade.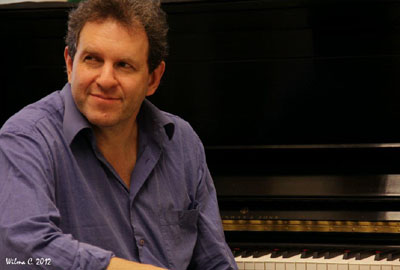 Shortly thereafter, he toured Japan with Nat Adderley, and toured Europe and recorded with Vincent Herring's quintet with Dave Douglas. In 1990, Bruce joined the Terence Blanchard Quintet. The band toured extensively recording six CDs, as well as several movie soundtracks. In 1992, Bruce played piano on-screen in Spike Lee's film Malcolm X. While in Terence Blanchard's band, Bruce recorded his first two CD's as a leader, In Focus and Morning Call. Both were chosen for the New York Times Top '10' lists. These recordings displayed not only Bruce's powerfully fluent piano playing, but also the scope of his own compositions and his imaginative arrangements of jazz standards.
Throughout his professional life, Bruce has had extended collaborations with Tony Bennett, Steve Wilson, Terell Stafford, Luciana Souza, Karrin Allyson and David Sanchez. He has performed with James Moody, Phil Woods, Freddie Hubbard, Tom Harrell, Branford Marsalis, Wynton Marsalis, Art Farmer, Victor Lewis, John Patitucci, Tim Armacost, Lewis Nash, and the Mingus Big Band.
.....a pianist of enormous ability.....Barth plays with an understated intensity, swathed in graceful technique and cradled in modernist harmonies. ~ Jazziz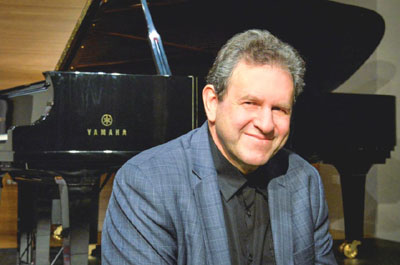 Originally from Pasadena, California, Bruce was born into a musical family, and started banging on the piano almost before he could walk. By age five, he was taking lessons, although he preferred to play by ear. When he turned eight, his family moved to New York, where he studied piano and musicianship. Later on, he studied in New England Conservatory in Boston, where he studied with Jaki Byard, Fred Hersch, and George Russell. Bruce's first professional recording was Russell's masterpiece, The African Game, captured live on Blue Note Records.
Bruce served two years on the panel for the U.S. State Department "Jazz Ambassadors" program, choosing jazz bands to represent the United States overseas. He is also a Grammy nominated producer, with more than twenty CDs to his credit. Finally, Bruce is a dedicated teacher, with more than ten years on the jazz faculty of Temple University in Philadelphia. He has also taught at Berklee College of Music, Long Island University, and currently teaches private lessons to City College University and New School students.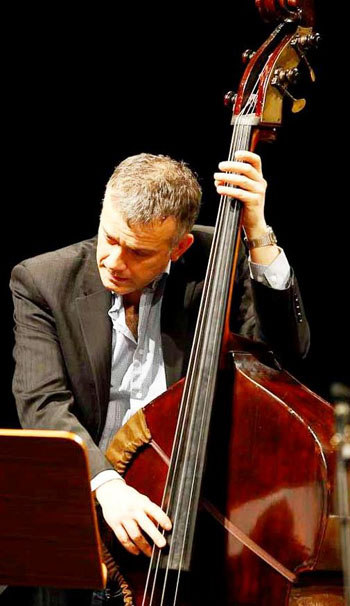 Arnie Somogyi is one of the UK's most in-demand bass players and has played on over 50 albums, including five as a composer and bandleader. Recently he has been recording with Tom Jones in London and touring and recording in Europe with "Passport" an international band put together by Italian saxophonist Pietro Tonolo and featuring jazz legend Joe Chambers on drums and vibes and Jorge Rossy on piano and drums.
His current band, Ambulance, was chosen for the first-ever jazz-residency at Snape Maltings, where they created an entirely original set of new material. The subsequent CD, Accident and Insurgency, was released on Linn Records in January 2008. It was nominated Best CD at the BBC Jazz Awards and supported by a UK tour attracting significant critical acclaim
He has performed with a wide variety of musicians from Amy Winehouse and Jamie Cullum to Charlie Watts and John Martyn; and has gigged, toured and recorded with many leading international jazz musicians including Bobby Hutcherson, James Moody, Art Farmer, Arturo Sandoval, Bud Shank, Charles MacPherson, Stan Tracey, Joey Calderazzo, Chris Botti, Herb Ellis and many others. He works frequently at Ronnie Scott's as part of the club's house band, the Ronnie Scott's All-Stars, is jazz bass tutor, small band coach and jazz history lecturer at Birmingham Conservatoire and visiting teacher at The Royal Academy of Music, Trinity College and The Guildhall School of Music.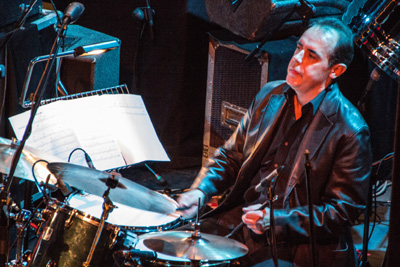 Based in Spain, Stephen Keogh became the drummer of choice for many visiting jazz artists to Europe, including Charles McPherson, Art Farmer, Harold Land, Bill Charlap and many others.
Stephen was born in Ireland. He followed his studies in Ireland with private lessons in London and New York. He played as percussionist with the National Symphony Orchestra of Ireland, contemporary music ensembles and many visiting jazz artists including Sonny Fortune, Eddie Lockjaw Davis, Jimmy Witherspoon, Pat La Barbera, Louis Stewart and James Moody.
A move to London in 1988 led to tours and recordings with many British and American jazz artists including Stan Tracey, Charles McPherson, Art Farmer, Jason Rebello, Jean Toussaint and Benny Carter. Since moving to Barcelona in 1990, Stephen has worked all over the world with many great musicians including Johnny Griffin, Lee Konitz, Harrold Land, Peter King Quartet, Brad Mehldau, Mark Turner, Herb Ellis, Benny Golson and Steve Grossman
He is a founder/director of Global Music Foundation: an organisation that aims to encourage people everywhere to enjoy and learn about music and the arts, through organising and supporting seminars, jazz and world music courses, workshops and performances around the world. Since 2005 GMF has hosted and run events in China, Italy, UK, Ireland, Croatia, Germany and Spain and brought the experience of high quality music making to many. He's was the drum/percussion tutor at the Louis Stewart Jazz School, West Clare in Ireland 1999 - 2003, principal tutor at the Percussion Summer School Leeds University 2004. And in 2009 Stephen was appointed as an overseas expert lecturer at Birmingham Conservatoire
…chockful of surprising twists, turns, and tempo shifts that separate the premier players from the pretenders in this genre. ~ CMJ New Music Report
Tonight it will be a great treat to hear Bruce in Bristol again, one of the outstanding piano talents of his generation.
Video above not working? Click here or here for Youtube links.