Dave O'Higgins (Saxes)
Graham Harvey (Piano)
Geoff Gascoyne (Bass)
Sebastiaan de Krom (Drums)
Dave O'Higgins tenor and soprano sax sounds are highly personal and recognisable, with a clear sense of melodic development and adventure. A popular performer with the public, with an excellent sense of pacing and presentation, he has a wide palette from Charlie Parker, Dexter Gordon, John Coltrane, Joe Henderson through to Stanley Turrentine and Michael Brecker.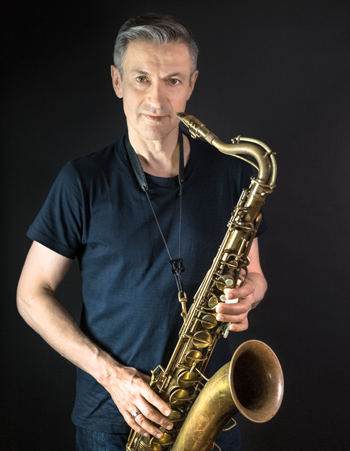 He has relentlessly pursued artistic and sonic exploration, and enjoys the learning process which is a constant advancing flow. The quartet has been together for 5 years now with Sebastiaan de Krom (drums), Geoff Gascoyne (bass) and Graham Harvey (piano) - a band that is unashamed to swing and draw on blues and functional harmonies and the great tome of jazz vocabulary, eschewing fads and fusions.
Dave is a highly regarded educator at the LCCM, where he is the Jazz Pathway Leader. He also runs a small specialist jazz recording studio (JVG), in search of the optimum way of recording jazz musicians through a combination of old techniques (a la Rudy Van Gelder) and newer innovations.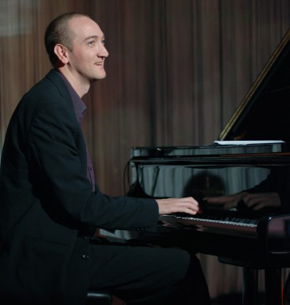 Pianist Graham Harvey studied jazz piano for five years in the eighties at the University of Denver. Returning to the UK in the nineties he spent 11 years as musical director for jazz funk band Incognito. For the past eight years he has been the pianist for Grammy nominated singer Stacey Kent and the Graham Harvey Trio has been in existence for two decades.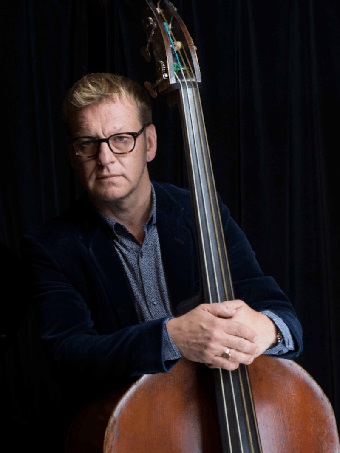 Geoff Gascoyne has been a professional musician for over 30 years. He has worked with such diverse artists as Michel Legrand, Everything But the Girl, Van Morrison, Georgie Fame, Sir Willard White, US3, Sting, Charlie Watts, Benny Golson, Bill Bruford, Jacqui Dankworth, Mari Wilson, Eddie Izzard, The Mingus Big Band, Peter King Quartet, John Martyn, Dianne Reeves, Guy Barker, Claire Martin, Eartha Kitt and he played a major part in the rise of Jamie Cullum with whom he worked exclusively from 2000 to 2007.
Geoff has appeared on over 100 recordings and has toured the world many times. He has performed in a West End stage show 'Lenny' directed by Sir Peter Hall and featured in a Hollywood Movie, 'The Talented Mr Ripley' directed by Anthony Mingella. He has recorded 10 CDs as a band leader and has arranged and composed music for countless others.
In the last 10 years Geoff has turned his attention to music production work. As well as producing albums for Jacqui Dankworth, Jamie Cullum, Josh Kyle and San2 and his Soul Patrol he has composed music for a series of Library recordings for the legendary KPM label. He is Professor of jazz bass at the Guildhall School of Music and is head of bass department at London School of Contemporary Music. (LCCM)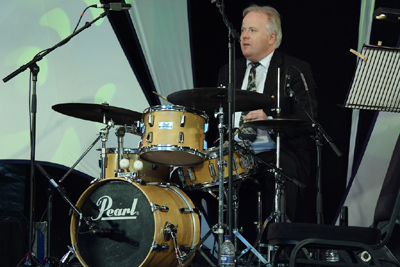 Dutch drummer Sebastiaan de Krom started playing drums at age three, receiving his first lessons from his father, who played in a jazz band. Seb went to the Berkley School of Music, and took private lessons from Ralph Peterson as well, followed by a study at the Monk Institute New England Conservatory, where he studied with Fred Buddha, and with Charlie Parship in New York.
Sebastiaan has played with Guy Barker, Tommy Smith, Tim Garland's Big Band, Herbie Hancock, Gene Harris, Wynton Marsalis, John Scofield, Clark Terry, Phil Woods, Barry Harris, Dave Holland, Joe Lock and Hein van de Geijn among others.
Dave's big tone sound leads this kicking band, which will surely swing the house down, be there!
daveohiggins.com
Video above not working? Click here for YouTube link