Julian Siegel Quartet 'VISTA'
Julian Siegel (Saxes + Clarinets)
Liam Noble (Piano)
Oli Hayhurst (Bass)
Gene Calderazzo (Drums)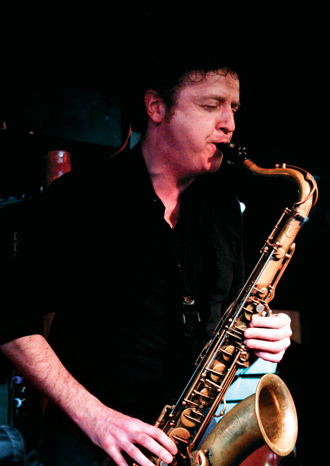 Julian Siegel is an in-demand saxophonist on the European Jazz scene. In 2007 he was awarded the BBC Jazz Award for Best Instrumentalist. His current bands are the Julian Siegel Quartet, the Julian Siegel Trio with US Improvising stars Drummer Joey Baron and Bassist Greg Cohen and the band Partisans, co-led for the last 20 years with guitarist Phil Robson.
As a sideman Julian has played in large ensembles led by Andrew Hill, Mike Gibbs alongside Bill Frisell, Steve Swallow and Adam Nussbaum, the Hermeto Pascoal UK Big Band, Django Bates Delightful Precipice, John Taylor, Jazz Jamaica, Kenny Wheeler, Colin Towns with the NDR big band and with Hans Koller 'New Memories Band' with Steve Lacy.
…a world class saxophonist ~ Jazz UK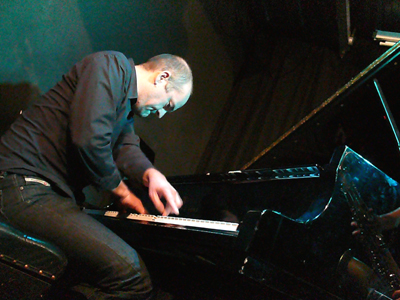 After studying music at Oxford University, and jazz at the Guildhall in London, Liam Noble started to build a reputation of note playing with Stan Sulzmann, Anita Wardell, John Stevens and Harry Beckett. His first CD, a solo entitled Close Your Eyes was released in 1994, and contained a mix of standards, originals and improvisations. This mixture of approaches has characterized his music ever since. In 1997 he joined the Bobby Wellins Quartet, the rhythm section of which continues today as the Liam Noble Trio, recently documented on the 2009 CD BRUBECK, gaining an almost unprecedented 5 star review in The Guardian.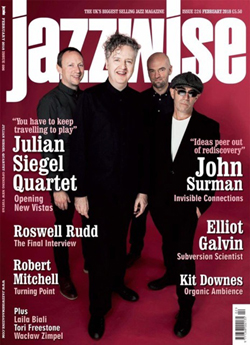 Following a Cheltenham Festival gig, Liam recorded the acclaimed Romance Among The Fishes on Basho Records with guitarist Phil Robson and the New York rhythm section of Drew Gress and Tom Rainey on bass and drums respectively. Liam's working relationship has continued with Tom Rainey in the free improv trio, Sleepthief with Ingrid Laubrock.
Other frequent collaborators have included Christine Tobin, Paul Clarvis and Julian Siegel. His growing reputation as a free improviser has also resulted in recent performances with Mary Halverson, Marc Ducret, Mat Maneri, Evan Parker, Okkyung Lee and Peter Evans.
In June 2011 he was featured on a recording by Zhenya Strigalev with Larry Grenadier, Tim LeFebvre and Eric Harland. His newest project is an expanded trio with Chris Batchelor and Shabaka Hutchings.His newest recording is a solo CD, due for release in early 2015 on Basho Records, which features an eclectic mix of improvisations, as well as versions of music by Edward Elgar, Joe Zawinul and Rodgers & Hammerstein.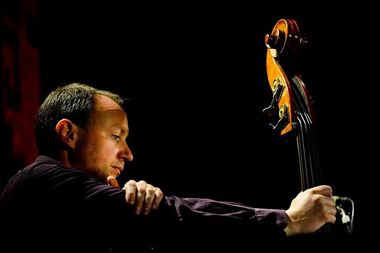 Oli Hayhurst has been one of the busiest bass players on the London jazz scene since graduating from the Royal Academy of Music in 2000. He is involved in a wide range of music playing with stars of jazz, classical and world musics. He has been featured on over 60 albums and toured extensively.
Whilst still a student under the late Jeff Clyne he was touring with Gilad Atzmon and playing with Irish folk singer Cara Dillon. He was a founder member of Atzmon's Orient House Ensemble, playing on their first two albums. In 2004 with singer-songwriter Polly Paulusma he toured Europe opening for Bob Dylan. In 2006 he was featured on Zoe Rahman's Mercury nominated album, 'Melting Pot' which also won the Best Album award in the 2006 parliamentary jazz awards. He continued to play with Zoe Rahman until 2011 playing at festivals throughout Europe and recording a further three albums.
He has held long associations with Tenor saxophonists Tim Whitehead and Sam Crockatt playing in both their groups since the early 2000s. As a member of Ray Gelato's Giants from 2008-15 he toured all over Europe, north Africa and Brazil and held annual residencies at Ronnie Scott's in London and the Blue Note Milan. He has been a regular in Pharoah Sanders' quartet for European dates since 2012 playing with Kurt Rosenwinkel, Dan Tepfer, Joe Farnsworth, Gene Calderazzo and William Henderson.
Latest projects include working with Jacqui Dankworth and Charlie Wood, Georgia Mancio's songbook with the great pianist Alan Broadbent, Kate William's string quartet meets piano trio project 4 plus 3 and Hannes Riepler's quartet featuring Chris Cheek.
Hayhurst's probing and technically virtuoso playing was for me the highlight of the evening. ~ Ivan Hewitt, Daily Telegraph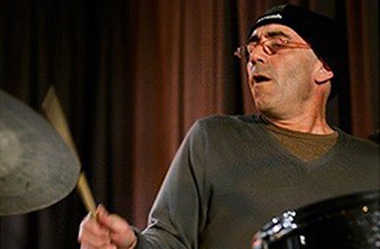 Gene Calderazzo is an American jazz drummer, born in New York who currently residing in the United Kingdom, where he is a visiting tutor at the Birmingham Conservatoire, the Royal Academy of Music, Trinity and the Guildhall. He also drums for the jazz quartet, Partisans. He has played with Steve Lacy, Steve Grossman, Eddie Henderson, The NDR, Mike Gibbs, Bheki Mseleku, UMO, Sting, Radiohead, James Moody, Phil Woods, Benny Golson, Ulf Wakenius, Gary Husband, Wayne Krantz, Bobby Watson, Eddie Gomez, Evan Parker, Randy Brecker and brother Joey Calderazzo among others.
He began his early studies at the Berkley College of music, Boston, (1979-81) alongside classmates Branford Marsalis, Wallace Roney, Jeff Watts and Marvin 'Smitty' Smith. He then gained a scholarship to attend the Long Island University in Brooklyn, New York. Here he performed with Joe Henderson, Mike Brecker, Lionel Hampton and Reggie Workman. Since 1995, when gene made the UK his home base, he has become one of the most in-demand drummers on the European scene today
When the Julian Siegel Quartet perform live it's a fantastic ride ~ Jez Nelson, BBC Radio Jazz on 3
juliansiegel.tumblr.com