Keith Tippett Benefit Gig
Feat: Paul Dunmall Quartet + Bristol Keith Tippett Appreciation Society
This Benefit Gig for Keith Tippett is being jointly organised by Ian Storror (Jazzata) and John Taylor from 'Fringe Jazz' with assistance from Todd Wills at Colston Hall. All the musicians playing on this night are donating their services free for this fund raising performance. The roll call of musicians already confirmed includes: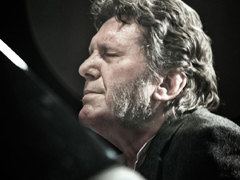 Paul Dunmall, Kevin Figes, Ben Waghorn,
Jake McMurchie, Mark Langford (Saxes)
Tony Orrell (Drums), Jim Blomfield (Piano)
Percy Pursglove (+Tpt), Riaan Vosloo,
Will Harris, Dominic Lash (Basses)
Jim Dvorak, Nick Malcolm,
Pete Judge, Dave Mowat (Trumpets)

As a musician Keith has always ploughed his own furrow, always true to his Art, never wavering; knowing within himself the right path he needed to take. As Keith puts it: I strive for magic, it's not enough just to be good...
Regarded as one of the world's finest exponents of improvised, contemporary and Avant Garde music; he possesses a piano technique and composition style of the highest calibre. Tippett still flies somewhat under the radar in the UK, despite his body of work as musician, composer, arranger and educator and is now in his 70th year.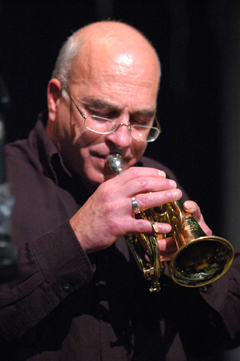 Born in Southmead, Bristol (originally 'Tippetts') he was classically trained in piano and church organ as well as playing cornet and tenor horn with the Bristol Youth Band. Already a Grade 5 pianist by 14 he was part of the all teenage Trad' jazz band, the K T Lads (1961-'63).
Keith Tippett left Bristol in 1967 to work in London pursuing a wide range of projects with others; moving easily between jazz and rock, becoming moderately well-known for his studio-based contributions to three early King Crimson LPs. Robert Fripp had asked him to join the band permanently but Tippett turned it down to follow his own path toward improvised and free jazz. A close friendship was established with Stan Tracey OBE who had been house pianist for Ronnie Scott at his club in Soho. During this period, London became home to many South African musicians in exile from 'Apartheid', from the early '60s through to early '70s. Keith was inspired, influenced and became closely associated with the likes of Chris McGregor, Dudu Pukwana, Mongezi Feza, Johnny Dyani and Louis Moholo who formed the band the Blue Notes. An overlap and cross-fertilisation of musicians began to occur and Keith played in bands with Louis Moholo, Elton Dean, Radu Malfatti, Nick Evans and Marc Charig, among others.
Tippett married vocalist Julie Driscoll (Steampacket + Brian Auger and the Trinity) who sang "This Wheel's on Fire" with Auger. Driscoll became Julie Tippetts (adopting the 's' of Keith birth name)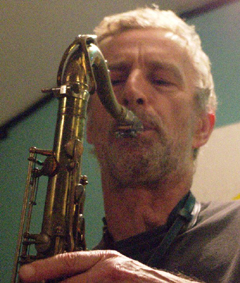 In 1970 Tippett formed the seminal 50-piece ensemble Centipede primarily to perform his extended composition Septober Energy. The ensemble was made up of the Keith Tippett Group, South Africans Dudu Pukwana and Mongezi Feza, members of several British progressive rock, jazz-rock and avant-garde jazz groups, including Soft Machine, Nucleus and King Crimson plus strings from students of the London School of Music.
This period also saw the existence of the experimental Ovary Lodge, a group that also included Julie Tippetts. The umbilical cord connecting Tippett to South Africa has continued throughout, in the Dedication Orchestra, founded to keep alive the South African legacy after all the musicians bar Louis Moholo had died. A steadily developing interest in music for film was presaged in 1978 when his big band The Ark recorded Frames (Music for an imaginary film).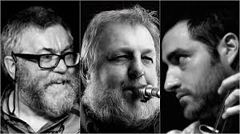 Despite his extensive discography with groups of varying sizes, it is as a solo pianist that Keith Tippett is known: creating a sound world that defies pigeonholing. His use of pebbles, toys, woodblocks and other objects inside the instrument on the piano strings, have defined his approach for over thirty years. The term Mujician, aptly bestowed on him by his daughter, was used on three solo albums, before it became a long running quartet (1988) of top improvising musicians comprising Tippett, Paul Dunmall (reeds), Paul Rogers (bass), and Tony Levin on drums. Mujician specialized in pure improvisation and lasted for over two decades until 2011 when Tony Levin died.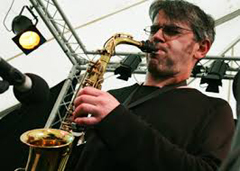 His role as an educator has also been important; from international work with Berlin's Jazz Workshop Orchestra; teaching in South Africa; and playing a crucial role in opening the Dartington International Summer School to jazz and improvisation. He also established The Seedbed Orchestra (1990) in Bristol, which took young raw musicians of varying abilities leading them into the world of jazz and large ensemble work, producing some of Bristol's finest, most notably Kevin Figes who turned professional three years later. Figes was reunited with his teacher in Keith's big band Tapestry and an octet (2009) Tippett formed using local musicians, including Ben Waghorn (tenor, soprano, flutes and clarinet). Keith was also a visiting tutor at Aldeburgh Summer School, organised by Joanna MacGregor and at the RWCMD. At this time Keith also worked in a series of workshops and seminars (improvisation, big band and film composition) at the University of Bristol Music Department. Keith Tippett is an Honorary Fellow of the Dartington College of Arts and the Royal Welsh College of Music and Drama.
Tippett continues to live in the Bristol area while still playing all over the world. His hallmark is a unique mesmeric style, coupled with a melodic spiritual power. He transforms the piano into an orchestra of his imagination. As an improviser he bears out the revelation shared only by a handful of other musicians today, that spontaneous composition with its fine balance of structure and inspiration is a vital force in contemporary music.
The influence that Keith Tippett's music has had and his contribution to the history of British Jazz and European Improvised music cannot be overstated and tonight's gig is an opportunity for us all to show our appreciation and help Keith at a time when he is unable to work and earn any money. Tickets are £15 with all the proceeds going to Keith and his family.
If you are unable to attend the gig in person but would like to help then please buy a ticket/s anyway to show support via the different button on the booking page ('Showing Solidarity with KT').