Nigel Price Organ Trio +1 feat: Alex Garnett
Nigel Price (Guitars)
Alex Garnett (Saxes)
Ross Stanley (Hammond B3 Organ)
Winston Clifford (Drums)
Price has become widely acknowledged as one of the hardest working musicians in the business. His career highlights include a supporting Gladys Knight at The Royal Albert Hall and an appearance on Van Morrison's recent album Keep Me Singing.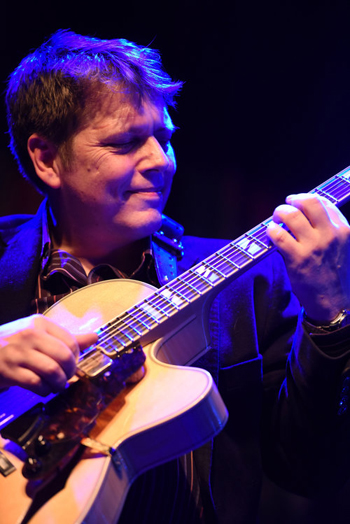 Starting his professional career in his early 20s, Nigel toured Europe with various reggae and funk bands before settling on a solo guitar career and turning his attention to jazz. Citing early influences as Wes Montgomery, Joe Pass, John McLaughlin and the Mahavishnu Orchestra, Nigel honed his craft by attending gigs and sitting in with the players of the time.
He's played on more than 50 albums including five as leader, spent ten years with acid jazz outfit The Filthy Six, was a member of James Taylor's band for 3 years (with whom he recorded 5 albums) and performed with the legendary David Axelrod. He has also taught at The International Guitar Foundation at King's Place, London.
Nigel is a regular performer at London's Ronnie Scott's Jazz Club where he has made more than 500 appearances. He released his fifth Organ Trio Album 'Heads and Tales Volume 2' in late 2016 to great critical acclaim.
The trio project has been going for fifteen years, originally with Matt Home on drums and Ross Stanley on the organ.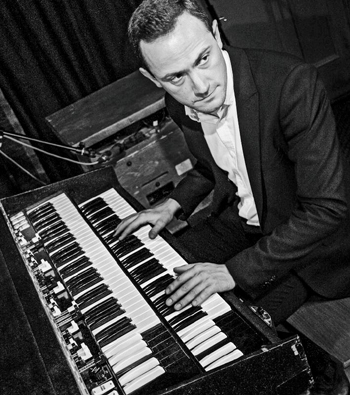 Ross Stanley is a pianist and organist who was born in 1982 in Frimley, England. Beginning piano at age 4, by a teenager, he was awarded an organ scholarship to Marlborough College and completed a BMUS in classical and jazz piano at Guildhall in 2004.
Since leaving, Ross's musical skills have kept him in high demand, seeing him play with jazz names such as Will Vinson, Dennis Rollins, Guy Barker, Joel Frahm, Liane Carroll, Stan Sulzman, Steve Arguelles, John Parricelli, Bobby Wellins, Clark Tracey, as well as being a regular member of the Jim Mullen Organ Trio, the Mark McKnight Organ Quartet and the Jacqui Dankworth band and performing in many small and large ensembles – Nostalgia 77 Octet, The Heritage Orchestra. Ross has also toured with Steve Howe Trio, Deodato and has recorded for Goldie, US3, Trevor Horn and Simply Red among others.
It's the group music – with Hammond organist Ross Stanley a treat as always – that packs the set's real punch. ~ The Guardian
Alex Garnett has been one of the leading saxophonists in the UK and Mainland Europe for over two decades, being instantly recognized by his dark, husky sound. A versatile musician and first call sideman, he has enjoyed success as a jazz artist, composer and arranger, and an in-demand session, studio and commercial saxophonist, having racked up countless recording credits along the way.
A ubiquitous performer with many of Europe's leading bands from underground to pop, he's a regular sideman of choice for many visiting American artists when touring in Europe, and has performed in over 30 countries with varied and diverse artists across the spectrum such as Sir John Dankworth, Wynton Marsalis, Pete King, Humphrey Littleton, Scott Hamilton, Van Morrison, Evan Parker and The Rolling Stones. As of late Garnett can be seen at his weekly late-night residency at Ronnie Scott's Jazz Club in Soho every Monday and Tuesday while not touring, and released his second album with his new band Bunch of Five in January of 2015, it features long time musical associate and fellow tenor saxophonist Tim Armacost from America.
Winston Clifford is one of Britain's leading jazz drummers. He studied with ex-Tubby Hayes drummer Bill Eyden and with Trevor Tomkins at Guildhall School of Music, quickly moving to professional gigs. His playing is free from the usual restraints of stylistic expectations and a true reflection of listening and responding "in the moment" to his fellow band members….a musical drummer.
This approach to his music has led him to play with a broad spectrum of jazz artists including: Bheki Mseleku, Carleen Anderson, Benny Golson, Chico Freeman, John Abercrombie, Birelli Lagrene, Joe Lovano, Eddie Henderson, Freddie Hubbard, Art Farmer, Gary Bartz, Joey Calderazzo, Monty Alexander, Courtney Pine, Julian Joseph, Jazz Jamaica, Tony Kofi, Tim Garland, Jean Toussaint, Orphy Robinson, Jonathan Gee, Ed Jones, Pee Wee Ellis, Fred Wesley, and John Horler. He has performed in New York and Bombay with Carmen Lundy and is featured on her album, Old Devil Moon. He sings a mean song all by himself too!
Wow. Lovers of jazz across the UK – prepare to be taken by storm by the Nigel Price Organ Quartet: An experience not to be missed! ~ The Jazz Mann
www.nigelprice.biz