As well as a brilliant guitarist (his captivating voice speaks for itself) Stephen writes all of his own material and is quite outstanding in solo performance. He is also well known for his work in the ground-breaking Americana trio: Blackie and the Rodeo Kings that have seen huge success in Canada and the States, as well as touring the world, over the last six years.
Fearing has released ten albums as a solo artist, featuring musical guests including: Bruce Cockburn, Margo Timmons, Rose Cousins, Richard Thompson, Shawn Colvin, and Sarah McLachlan.
Fearing's music crackles with ideas and collaborative energy…masterful guitar work from acoustic rock rhythm to elegant finger style. ~ Acoustic Guitar Magazine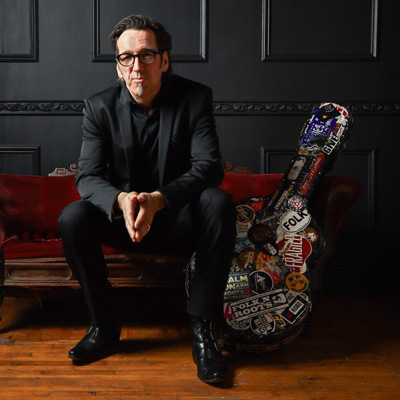 Stephen Fearing was born in 1963 in Vancouver, British Columbia and grew up in Dublin, Ireland where his schoolmates included future members of U2. In 1981, he moved to Minneapolis, Minnesota and immersed himself in the music scene, learning the fundamentals of song writing and performing, while washing dishes to stay alive.
By 1984 he was back in Vancouver, determined to become a professional musician. In the years since, he's been named as one of the finest songwriters in Canada and has built a national – and international – audience for his music, doing it old school through countless performances at intimate venues and on the concert stages of festivals and theatres across Canada, the US, the UK, and Europe, with appearances at major events like the Reading Festival and WOMAD, to name just a few.
In 1996 he co-founded Blackie and the Rodeo Kings with Colin Linden and Tom Wilson. Originally intended to be a one-off collaboration to record a tribute album of songs written by Canadian folk music legend Willie P. Bennett, the trio quickly recognized they had created something worthy of further exploration and both critics and audiences agreed. More than 22 years later, with nine albums and a JUNO award to their credit, the band has become one of the most respected names in North American roots-rock. Their musical collaborators are many, but to name a few – Emmy Lou Harris, Nick Lowe, City and Colour, Keb' Mo', Jason Isbell, Lucinda Williams, Bruce Cockburn, Sam Phillips, Pam Tillis, Vince Gill, Cassandra Wilson, Serena Ryder, Holy Cole, and Mary Margaret O'Hara.
…a king amongst minstrels. ~ Halifax Chronicle Herald (Canada)
Through a life of much relocation and countless months on the road performing, Fearing has become a gifted storyteller and true musical nomad with the ability to enthral audiences of all sizes and attitudes. "Getting on stage is the fun part, especially when the adrenaline kicks in," he says, with a broad smile. "People want to escape and be taken on a journey. I build my shows so they do just that."
The first single from Stephen's 2018 album The Secret of Climbing.
Video above not working? Click here for YouTube link
The album is in collaboration with music industry icons - Rega Research co-founder and veteran engineer Roy Gandy and International Mastering Engineer Ray Staff, whose work spans all genres, from Cab Calloway and Van Morrison to Genesis and The Clash. Recorded live off the floor at Roy's home studio in Essex, the set-up was simple -- just a chair, Fearing's beloved Manzer acoustic, and two mics (one for vocals, the other for guitar). With only two days available to lay down tracks and see what might happen, Fearing let go and allowed the music to speak, recording a selection of his previously-released tracks and one cover, Tom Waits' 'Time'.
From Stephen: With this record listeners will experience the intimacy of that stripped-down session. What you hear through your speakers or headphones is as close as you can get to what I played at Roy's on that chilly winter day in the heart of the English countryside.