An Evening with Jim Blomfield & Friends
Sun 16 April - 7:15 for 8:00 (£20.71 / £19.08)Bristol Beacon Book
Jim Blomfield (Piano)
Kevin Figes (Saxes & Flute)
Sol Ahmed (Bass)
Jon Clark (Drums)
Lisa Cherian (Congas & Percussion)
For tonight's gig I've invited Jim Blomfield to choose what he would like to do with it! From my point of view I want to hear him play music that he selects, with his choice of musicians to play with: However the main reason is to hear Jim play in his expansive and engaging style.
Jim Blomfield, like the famous Danish lager, is 'Probably the best pianist in the South West '. He has been living and performing in Bristol since the early 90s and has constantly improved year on year; with no signs of slowing his growth and inventiveness, which is quite remarkable; but great for us. His choice of band members tonight, reflects the groups and styles he has performed in during those years, from early collaborators to Latin friends and some new talent he has more recently worked with, two of which I haven't heard live yet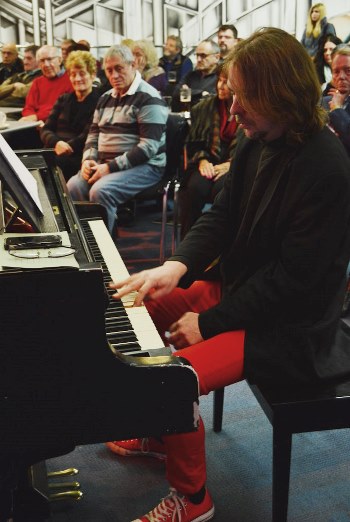 Jim has often been the pianist of choice to accompany some of the UK's biggest jazz names at numerous venues and festivals up and down the country as well as long standing engagements in the bands of two stalwarts of the Bristol scene, Andy Hague & Kevin Figes with whom he has toured extensively and recorded.
As a bandleader and composer his past work has included Latin Perspective, a sextet reflecting Jim's affinity with Latin jazz/Salsa music (a music that frequently imbues his playing and compositions) and Septimbre, a septet showcasing his intricate compositions and featured on his ASC records release Peaks and Troughs (together with original quartet pieces featuring special guest Andy Sheppard). Jim's arranging skills and diverse influences were also in evidence with commissions for the contemporary/crossover Elektrostatic concerts at Bristol's then, Colston Hall collaborating with the Emerald Ensemble and producing works that contained both classical and jazz elements. He also co-led and composed for acclaimed contemporary big band Resonation.
For over ten years Blomfield concentrated on the trio format. Regular rehearsing and refining the group's line-up and sound. Their acclaimed live performances gradually saw them play and develop original material culminating in the release of the trio's 2013 debut album Wave Forms and Sea Changes. In 2019 he followed up with possibly his best trio recording to date with release of Strange Beauty (Every Way OK). He has also performed at numerous venues and festivals throughout the UK and has accompanied a wealth of national and international names - Andy Sheppard, Pete King, Alan Barnes, Simon Spillett, Ed Jones and US saxophonists Benn Clatworthy & Greg Abate to name but a few.
As mentioned; Jim is somewhat of a specialist in Latin and Salsa piano styles, and can frequently been seen performing this genre of music with the likes of the Bristol Dockside Orchestra or in various groups with Cuban trumpet maestro Michel Padron. Jim also plays in a band performing the music of Santana from their earlier period with virtuoso guitarist Denny Illett.
"Jim Blomfield's music is clever, dynamic, surprising, and quite dazzling." Peter Vacher - London Jazz News.
"Blomfield's Trio invites comparisons with the work of such forward looking contemporary piano trios as; e.s.t., the Neil Cowley Trio, The Bad Plus and GoGo Penguin. Fans of any of these bands is likely to find much to enjoy here".
Ian Mann - www.thejazzmann.com
Kevin Figes has been a serial collaborator with Blomfield since 1993 and it remains so to this day, in hugely varied projects from quartet to big bands. Indeed, they are both currently in the studio as I write this, recording Figes's second 'Wallpaper Music' album in deepest Monmouthshire
Kevin Figes has matured into one of the UK's finest musicians on a variety of Saxes from alto to baritone as well as flute; his career has been constantly progressive over three plus decades. His last few groups and recordings have brought widespread acclaim for his compositions and performance.
Kevin began studying saxophone with the late great, Elton Dean and later attended the Guildhall School of Music and Drama, studying with Tim Garland. In Bristol he joined the influential teaching band created by Keith Tippett called 'The Seedbed Orchestra'. He later went on to perform in Tippett's big band 'Tapestry' as well as his Octet. Other projects include '4 Sided Triangle' (with Mike Outram), an Octet and the 15 piece big band 'Resonation'.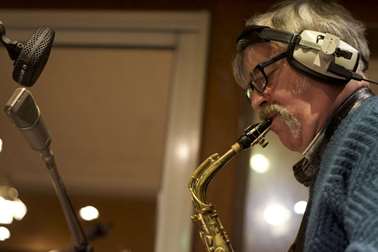 Figes has played at Ronnie Scott's, with Pee Wee Ellis & Fred Wesley, Bobby Shew and Denny Ilett's, 'Electric Lady Big Band'. He has also performed on the Park stage at Glastonbury with the music of Barry Gray and major festivals with 'This Is The Kit'. As an educator, he has taught in schools and run workshops for many years and is currently jazz saxophone teacher at Bristol University.
Since 2007 Figes has composed and produced many well-received recordings with his own jazz quartet. Recent work includes 'Changing Times' (2020), which received a 4* review from Dave Gelly in The Guardian, and 'Wallpaper Music' (2021) (with the addition of Brigitte Beraha on vocals) which was described as '...a kaleidoscopic blizzard' by John Fordham in his 4* review for Jazzwise.
"The multi-instrumentalist's latest quartet recording is a mind-expanding feast for the ears" - Dave Gelly - The Guardian.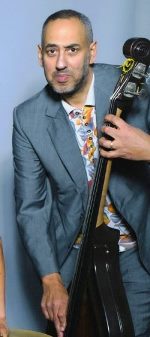 Sol Ahmed has been playing in Bristol for many years and somehow I've not heard him play before. He's been playing in a variety of local bands that have got a lot of work, mostly those with a Latin feel, hence the connection to Jim!
A core member of Radio Banska for the last few years, providing a solid foundation for its rhythmic intricacies.
He is involved in many Bristol-based Latin projects such as Camo Clave, The Dockside Latin Orchestra, Puravida & K'Chevere. Sol has appeared at Ronnie Scott's with The Coleman Brothers and at the Montreal Jazz Festival.
Sol also plays in Jazz settings with saxophonist Pete Canter, the quartet Audio Flowers & The Chiff Chaff 4Tet that worked at Bristol Old Vic.
Jon Clark is a British Drummer, percussionist and sometimes-Cellist from the darkest depths of Somerset, who has become a familiar face on the UK music scene. Jon is involved in an eclectic mixture of projects spanning a melting-pot of styles, including spending time studying and touring in India and Cuba.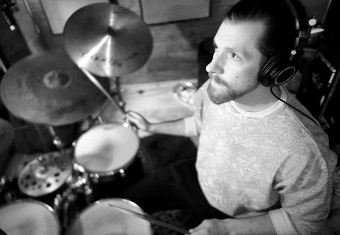 Since 2007, he took his involvement with improvised music to a deeper level under the tutorage of Gwilly Edmondez & Blue Rince. He currently is to be found working with like-minded individuals in a wide range of idioms from latin soul to improvised hip-hop.
He came to free improvisation working with bassist John Pope (John Pope Quintet, Archipelago) and has since dived into exploratory sound alongside such artists as Steve Beresford, The London Improvisers Orchestra, Cleveland Watkiss, Orphy 'Vibes' Robinson & Al Swainger's Pointless Beauty. He is involved in many ventures including his own current project - 'Baldhu'. His background sounds interesting and he's another I don't think I've heard so far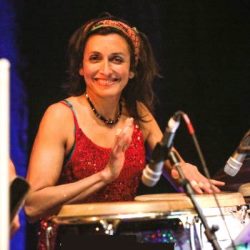 Lisa Cherian is a Percussionist and an extremely skilled Conguera who plays and records with numerous artists in the UK. Born and raised in Australia, Lisa moved to the UK in the early 90's. There isn't a lot of biography to be found about Lisa but I did find this from her latest band, that she is a member of, Jingu Bang, and its very amusing.....
Lisa'a Weapons are: Congas, Bongos, Llama's Toe Nails, Spanner Chimes, Mussel Shell Cluster Shakers, Vibra Slaps, Flexitone, Guiro, Cuica, Hell's Bells, Sea Pods and Ocarina. Known for her immeasurable humility and legendary sense of rhythm, Lisa began her life on the eastern side of the world in the revered province of Sydney. However, few know of her rare gift of transformation - sparingly used after it was forbidden across the Empire.
Her seven year journey to the west, through the locust storms, was a test of endurance that few travellers would survive. After a long rest she settled into her new life and stumbled upon fortune when she procured a plentiful assortment of belongings at the cost of 300 bungas from a Shaolin Monk. It later transpired that the goods were enchanted and not only served to protect her, but were weapons of Funk that served as the ultimate channel of expression for her undulating rhythms. Her destiny was sealed.....
Lisa band CV is quite large to say the least; Franki Paul, Ricardo Lemvo, Starlings, The Dockside Latin Orchestra, Baila La Cumbia, K'Chevere, Brass Junkies, Latin Descarga, World Government and many other expressive mortals from both ends of the earth. Sounds impressive, worth checking her out on this gig
"Lisa Cherian's congas provided the atmospheric undertow that had been adding an Afro-Latin flavour throughout the evening, giving the whole sound some real distinction."". Tony Benjamin; Bristol 24/7
Video clips are two very different Jim Blomfield Trio pieces playing "Every Way OK" and "Bits & Pieces"
Video above not working? Click here or here for Youtube links.