Kate Dimbleby, Keith Warmington & Clare Lindley w/ Naadia Sheriff
Thurs 27 April - 7:15 for 8:15 (£18.53 / 17.44)Bristol Beacon Book
Kate Dimbleby (Vocals & loops)
Keith Warmington (Guitar, Harmonica, Vox)
Clare Lindley (Violin, Guitar, Vox)
Naadia Sheriff (Piano, Vox)<
In this special one-off gig for the Bristol Beacon, Internationally acclaimed singer-songwriter Kate Dimbleby is joined by Keith Warmington, Clare Lindley (Stackridge); with special guest Naadia Sheriff on piano, Kate's long-time musical collaborator. Kate and Naadia's album "Beware of Young Girls : The Songs of Dory Previn" was in the Top 10 jazz albums in the Sunday Times and their show about the 70's songwriter has toured internationally. They are currently working on a new album for 2023.
Expect an energetic, soulful and moving set from a quartet of brilliantly talented musicians with a shared love for the classic songwriters of the 70's as well as some crowd-pleasing originals.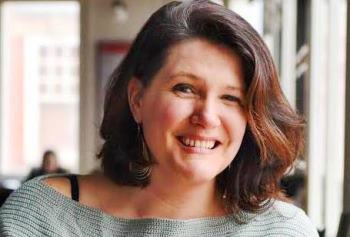 Kate Dimbleby is an internationally acclaimed singer and performer, she's released six albums and toured her live theatre shows all over the world. Her latest album of originals Songbirds was created entirely with her voice...no instruments; using improvisation to create secular 'soul songs' inspired by her work with vocal artist Bobby McFerrin.
The live show, Sing Happy, toured the UK until 2020 as Kate told her story of finding her voice, by singing the songs and stories of other women;- from Peggy Lee at the Royal Festival Hall, to her New York debut; a show about the 70's confessional songwriter Dory Previn and finally, how singing with people on the streets of her new hometown of Bristol led her to standing on stage, singing with her audience with just a vocal looper and an ironing board!! She was recently invited to sing Joni Mitchell's 'Both Sides Now' at the Royal Albert Hall with Giffords Circus, as part of the Royal Variety Performance.
Kate's wit and charisma, gained through 25 years of live performance, comes through strongly in her own grounded songs. Described by The Times as "One of the most versatile singers..opening up her own Third Way; part-cabaret, part pop concert", Kate has established a reputation as one of the UK's leading interpreters of song.
"Exhilerating entertainment, a cocktail of blues, jazz, country, sing-songwriter pop and the sort of earthy, post-feminist humour that makes the Desperate Housewives look like members of the Salvation Army" - The Times "It's that extraordinary voice - treacly and sleepy at rest, filling the room with feeling when she turns it on" - The Daily Telegraph
My old mate Keith Warmington is a proudly born Cornishman from Camborne. Keith started life in Bristol as a French teacher (.still a Francophile at heart) before joining the team at BBC Radio Bristol in 1983. He became a stalwart of the station for over 30 years, putting his endearing, deep treacly voice to good use.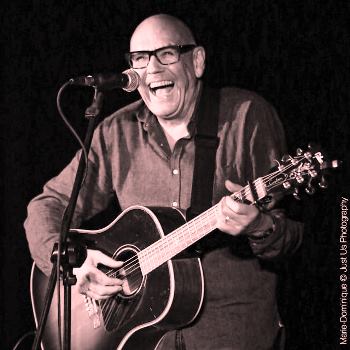 However those that know Keith, know there is a different musical side to his life, going back to hearing The Rolling Stones version of 'Little Red Rooster' in the 60s and deciding to take up playing harmonica. He got good at it and was soon gigging in and around Bristol; early on as half of the duo Strange Fruit with Pete Keeley; before fronting the legendary Blues-Soul group The Parole Brothers with guitarist Steve Payne. The Parole Bros' were a major force on the Bristol music scene of the 80s, playing all the great venues: The Granary, Bristol Bridge, Crown Cellar Bar, Kings Arms etc.
Keith went on to record sessions with all sorts of people as well as various TV soundtracks for BBC 1 and 2 & Channel 4. He's played with the like of; Dr John, Al Perkins, John Martyn, Michael Chapman, Andy Sheppard & Mike Silver. More recently, he performed and recorded with US folk artist Brooks Williams and spent 3 years touring with UK folk legend Steve Tilston. Keith met Steve playing sets at the infamous Clifton venue 'The Troubadour' and have remained firm friends ever since, they still perform together regularly.
Other local stellar musicians he works/worked with included Kit Morgan, Rick Payne, brother-in-law Steve Webb and the lovely, late lamented Stuart Gordon. Keith has also become an accomplished guitarist, as will be seen with Kate & co on this gig.
"Keith's seasoned guitar had run faultlessly through the evening behind their voices but it was undoubtedly his solo harmonica piece 'Cornish Train Blues' that stood out.....it was a fearsome piece of huffing and puffing that clearly blew the house down" - Tony benjamin; Bristol 24/7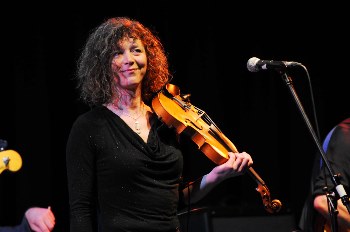 Violinist Clare Lindley grew up in the 1970s in rural Aberdeenshire, where a rich traditional music culture still sits happily amongst popular music. She learned classical viola at school and played in string quartets and orchestras, before moving to the bright lights of Aberdeen! There she discovering blues jams and folk music sessions. This would be where she started to find Scottish fiddle music more socially acceptable, as well as knocking around with lots of blues guitarists and pretending to play lead guitar on her newly acquired fiddle.She also played in the duo Green for nine years and they released an album on Lochshore Records called Found on The Wave.
In the late 90s she moved to London and played on the London Irish scene with cult band Six Mike Walk for five years, after which she decided to move west and get out of London. On her eclectic travels she has toured with a Taiwanese tribe, taught hundreds of children how to play Smoke on the Water on guitar, played Iranian folk rock music and toured Germany with Jan Allain.
In 2009 she joined the inimitable melodic rock band Stackridge touring the towns and cities of England. As an offshoot of that, she is also in a trio; DLM with Stackridge founder Andy Davis (Korgis) & Brian Mullen. Clare also has her own ceilidh band called Big Jessie, playing and 'dance-calling'; at possibly thousands of ceilidhs, in quite a few different countries, to people who have never danced a step in their lives!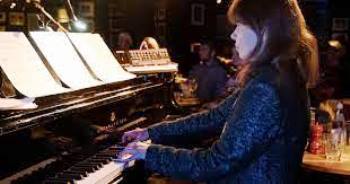 Naadia Sheriff is a founder member of Jazz trumpeter Yazz Ahmed's 'Hafla' band with whom she has toured extensively and played at many international venues and festivals. She appears on the albums 'La Sabotueuse' & 'Polyhymnia'. Naadia was also part of the orchestra for Hermeto Pascoals' 80th Birthday Concert at the Barbican Centre in 2016.
From 2011 Naadia has been pianist and Musical Director for Kate Dimbleby. This included the shows 'I'm a Woman' & 'The Dory Previn Story', which toured extensively including a residency at 59E59 Theatre in New York. She collaborated with Kate on two albums, the first of which 'Beware of Young Girls' reached number 3 in the iTunes Jazz Charts and was featured in the 'Sunday Times Top Ten Jazz Albums of the Year 2012'. The duo made several radio appearances including 'Woman's Hour' 'Jools Holland' & 'In Tune' and appeared in the 2012 film 'Blood' directed by Nick Murphy and starring Paul Bettany.
Since 2019 she has been the pianist for ISQ (Irene Serra Quartet) with who she appears on the albums 'Requiem for the Faithful'. Naadia is also a member of Dave Manington's 'Mingus Ah Um' project, and has played with vocalists Juliet Kelly, Laura Eidi, Georgia Mancio and piano duets with Andrea Vicari
"Naadia Sheriff's swinging accompaniment completed a ravishing evening". The Guardian **** "Dazzling Pianist". The Times
Video clips include "I See A Darkness" by Bonnie Prince Billy: Kate Dimbleby live at The Pheasantry on 22nd October 2011.
Followed by "'Speed of the Sound of Loneliness' by John Prine: Live performance by Kate Dimbleby, Keith Warmington & Clare Lindley at The Curzon, Clevedon on November 30th 2019
Video above not working? Click here or here for Youtube links.