Dave O'Higgins & Rob Luft Quintet
Sun 28 May - 7:15 for 8:15 (£20.71/ £19.08)Bristol Beacon Book
Dave O'Higgins (Tenor Sax)
Rob Luft (Guitar)
Ross Stanley (Piano)
Misha Mullov-Abbado (Bass)
Rod Youngs (Drums)
This is straight-ahead modern jazz in the African-American tradition, clearly coming from the Monk & Trane lineage, but not bound to emulating it. You will hear Luft easily morphing Wes Montgomery with Bill Frisell, adding his own trademark soundscapes and world influences, while O'Higgins' emotive melodies evoke Dexter Gordon, Trane, Joe Henderson & Michael Brecker; with a melodic logic of his own.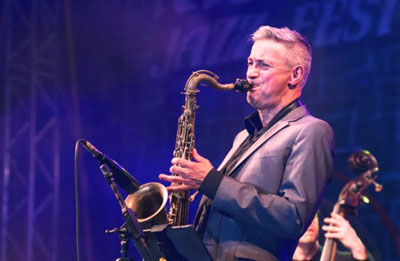 Dave O'Higgins is a popular performer with the public, his tenor and soprano sax sounds are highly personal and recognisable, with a clear sense of melodic development and adventure.
O'Higgins experience working with artists spans a huge spectrum, such as US musicians Joey Calderazzo, Joe Locke, Dave Kikowski, Joe Lovano, Jimmy Smith & Wayne Shorter; to vocalists Nancy Wilson, Peggy Lee & Kurt Elling and long term work with Sir John Dankworth & Dame Cleo Laine. Collaborations with South African pianist Abdullah Ibrahim to the legendary French pair of violinist Stephane Grappelli and composer/songwriter Michel Legrand. He also wrote and produced the last Matt Bianco album, "Gravity".
Also on Dave's CV: Frank Sinatra (the last London appearance - a week at the Royal Albert Hall in 1992) and a tour and album with Ray Charles ('Strong Love Affair'). Dave was nominated Best Tenor Sax 2018 British Jazz Awards
Current and ongoing associations include Darius Brubeck's Quartet, and has also worked with Jamie Cullum, Kyle Eastwood and Big Band work with the BBC Big Band & Ronnie Scott's Jazz Orchestra
"O'Higgins plays with quite exceptional fluency and his fund of ideas never runs out." - The Observer.
Rob Luft is an award-winning 28-year-old jazz guitarist from London whose virtuosity has been compared to that of six-string legends John McLaughlin, Al Di Meola & Paco De Lucia. Praised by The Times for performances with the National Youth Jazz Orchestra in 2015, who said he was destined "to achieve great things in the future".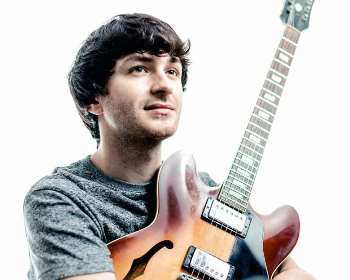 Rob was subsequently the recipient of the 2016 Kenny Wheeler Prize from The Royal Academy of Music, and also of 2nd Prize in The 2016 Montreux Jazz Guitar Competition at the Montreux Jazz Festival. His debut album, 'Riser', was released on Edition Records in 2017 to widespread critical acclaim from the European jazz media. John Fordham wrote in The Guardian that it's a "very sophisticated debut, but given Luft's old-soul achievements since his early teens, we should have heard it coming".
Following the success of his first album, Rob was nominated for a string of awards - 'Breakthrough Act' in the 2018 Jazz FM Awards, 'Instrumentalist of the Year' in the 2018 Parliamentary Jazz Awards and 'Instrumentalist of the Year' in the 2019 Jazz FM Awards.
In 2022 & 2023, Rob will be touring across the U.K. and continental Europe with several projects, such as his eponymous quintet, the "Lost Ships" project with Swiss-Albanian singer Elina Duni, Ellen Andrea Wang's Closeness Trio, as well as much much more.
"...an extraordinary talent! ...a burgeoning UK talent turning heads and ears throughout the nation." Julian Joseph, BBC Radio 3 (UK)
"Luft wears his "manifold" influences lightly and has come up with a startlingly original sound inspired by contemporary music from all over the globe."
Jazzman (UK)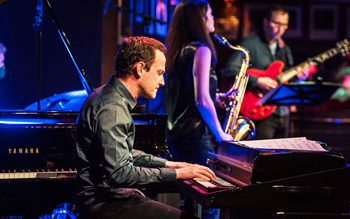 Ross Stanley is a pianist and organist, born in 1982 in Frimley, England. Beginning piano at age 4, by a teenager, he was awarded an organ scholarship to Marlborough College.
Upon leaving, Ross was invited to study for his music degree at several renowned institutions including Trinity College of Music, Guildhall School of Music and a scholarship to Berklee College of Music in the USA.
He decided to stay in London, however, and completed a BMUS in classical and jazz piano at Guildhall in 2004.
Since leaving, Ross's musical skills have kept him in high demand, seeing him play with jazz names such as Will Vinson, Dennis Rollins, Guy Barker, Michael Janisch, Joel Frahm, Liane Carroll, Stan Sulzman, Steve Arguelles, John Parricelli, Bobby Wellins & Clark Tracey; as well as being a regular member of the Jim Mullen Organ Trio, the Mark McKnight Organ Quartet and the Jacqui Dankworth band.
He also performs in many small and large ensembles such as; Nostalgia 77 Octet, The Heritage Orchestra and has also toured with Steve Howe Trio, Deodato and has recorded for Pop & Rock artists; Goldie, US3, Trevor Horn & Simply Red among others. He is especially the go to guy for and band needing the authentic Hammond Organ sound, he is an endorsed Hammond musician.
"Ross Stanley provides the tonal depth of field that broadens the sound and adds another layer of interest."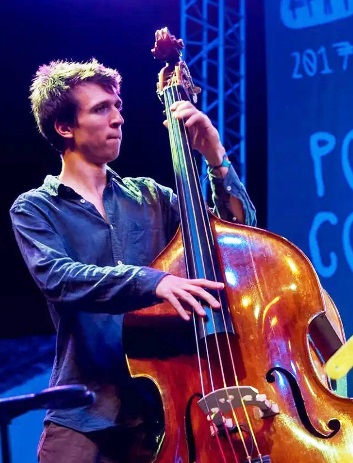 Winner of the 2014 Kenny Wheeler Jazz Prize, Misha Mullov-Abbado is an in-demand bass player, composer and arranger based in London. He was the 2017 BBC Radio 3 New Generation Artist, a 2014 City of Music Foundation Artist and has released three albums on Edition Records as a band-leader and composer.
His most recent album was produced by fellow Edition Records bassist and bandleader Jasper Høiby. Misha is an experienced composer and writes for various jazz groups as well as classical soloists and ensembles, and is influenced by a variety of jazz, classical and pop music. In November 2019 Matthew Barley along with the BBC Concert Orchestra conducted by Michael Seal gave the world premiere of Misha's cello concerto at the Queen Elizabeth Hall at London's Southbank Centre as part of the EFG London Jazz Festival and commissioned by BBC Radio 3.
After graduating from Gonville & Caius College Cambridge, where he studied music and composition, Misha received a scholarship to study double bass at the Royal Academy of Music on the prestigious Masters jazz course with Jasper Høiby, Tom Herbert, Michael Janisch & Jeremy Brown.
Since leaving the Academy Misha has been performing with a variety of musicians such as Alice Zawadzki, Tim Garland, Stan Sulzmann, Paul Clarvis, Sam Lee & Tom Millar. He co-directs the Patchwork Jazz Orchestra, an exciting young big band in London that plays original compositions written by members of the band, that won the 2015 Peter Whittingham Award.
"For all its exhilarating improv breakouts, this is contemporary jazz with a very firm hand on its tiller, but it's beautifully done." John Fordham, Jazzwise (UK) ****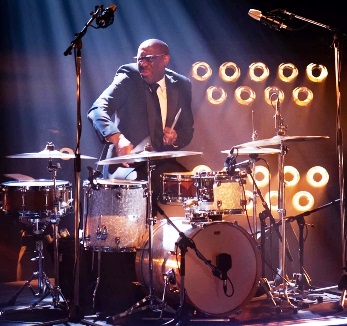 A native of Washington D.C., Rod recalls his first exposure to live music: "My dad managed some of Washington's foremost R&B groups and would occasionally take me along to gigs/recording sessions..". It was at these gigs he was bitten by the music bug, deciding he wanted a life in music.
Rod developed a uniquely identifiable style, loose-limbed; and giving everything a great sense of swing. It is a style that incorporates influences across the board from Sid Catlett to Tony Williams, but centres in the great post-Bop drummers of the 50s.
Rod's consummate musicianship has garnered him a wide variety of work from concerts and recordings to sessions for radio, TV and film.
He has become the drummer of choice for a formidable array of artists and groups including, Gil Scott-Heron, Lee Konitz, Courtney Pine, Jon Hendricks, Hugh Masekela, Carleen Anderson, Natalie Cole, Mica Paris, Denys Baptiste, Abdullah Ibrahim, Julian Joseph, BBC Concert Orchestra, Robin Eubanks and Jazz Jamaica All Stars.
Rod is actively involved in music education. Serving as an instructor on the Glamorgan University jazz course and Southampton University, for the Tomorrow's Warriors Organisation, Serious International Music Producers and The Round House. He also serves as a guest artist at the Planet Drum School and the Julian Joseph Jazz Academy.
"Rod Youngs....who doesn't so much hit his drums as massage them. Leaning forward sensually, then reclining back with an expression of orgasmic concentration, he makes his cymbal fizz like freshly poured lemonade." James Griffiths; The Guardian
daveohiggins.com robluft.co.uk mishamullovabbado.com rodyoungs.com
Video clips include Gyetski - by Rob Luft from 'Pluto' by Dave O'Higgins & Rob Luft
Followed by "Pluto" - by Dave O'Higgins from 'Pluto' by Dave O'Higgins & Rob Luft
Video above not working? Click here or here for Youtube links.